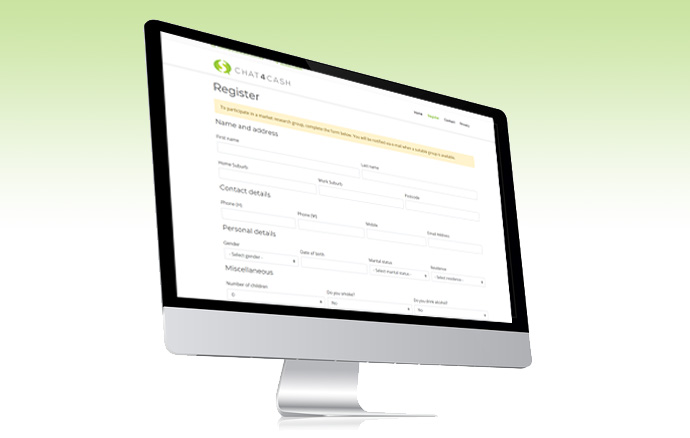 What is market research?
Companies need to get opinions on their goods, either because the sales may have dropped off or they want to get opinions on a new product.
This is where you come in. You will be invited to a group which consists of 8 people in an informal discussion in which you will be asked your opinions on certain products or services; they will then be used for marketing purposes. Your answers are completely anonymous.
We now do various forms of market research, whether it be groups, face to face interviews, self complete surveys at venues or online surveys.
Where and when do I do market research?
Groups are held all over Sydney (Parramatta, Hills area, City, and North Shore). Of course you can turn down anything that does not suit you. Sessions are held during the day and evening, so there is usually something to suit everyone.
PLEASE NOTE – You can only participate in a group once every 6 months.
How do you notify me of groups available?
I will email you or call you when the groups become available and ask you a questionnaire; if you qualify then I will email you all the details including date, time, address and incentive. I will also text you on the day to remind you on your phone.
Groups generally run for 2 hours and you are expected to arrive about 10 minutes early. You will be turned away if you are late, so it is always best to be early.
Reimbursement for your time is normally $100 for 2 hours but may be higher if the group is longer or homework is required.
Can everyone participate in market research?
We survey people of all ages. The only exceptions are, if you are working in marketing / advertising / PR, media or market research. Please do not apply if you work in these jobs.
Testimonials

I just love it when that phone call comes in from Helen. She is always so positive, honest, warm and friendly in her approach - nothing is a problem to her. The products that I get to review are so varied, and the discussion groups are so much fun - I really enjoy hearing what other people in the group think as well. I strongly recommend to anyone to get on her call list - it truly is a fun thing to do!


Glenda G

I really enjoy doing market research. Helen has been fantastic throughout my time with her.
I have felt supported and listened to. I believe my market research has made a difference and Helen has been the perfect person to facilitate this.


Darren T

Helen spearheads a professional Market Research resourcing business that I've been proudly involved with over the course of more than 10 years. I believe it's Helen's attention to detail and focus that places her business above the competition. Adaptable and persistent are just some of Helen's strengths. Understanding the clients requirements and placing the "right" people is just another example of what Helen does best. A pleasure to work with.


David B